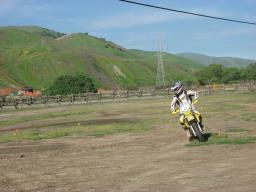 To schedule a class, contact us by phone or email:

Phone:

(925) 240-7937

Email:

Note: We now accept PayPal

Class Schedule:

Class starts at 10 am and lasts about 4 to 5 hours.  We teach seven days a week by appointment only.  Contact us to find a day that works for you.

Minimum age is eight years old.
Minimum requirement for learning dirt bikes is that you are able to ride a bicycle.


We have loaner motorcycles available.


Equipment needed:


Helmet (Ansi or D.O.T. approved)  NOTE: We have LOANER HELMETS

Goggles (We have LOANER GOGGLES)

Gloves (We have LOANER GLOVES)

Long pants (sturdy like blue jeans) and a long-sleeved shirt or jacket

BOOTS (NO RUNNING SHOES OR CASUAL SHOES ALLOWED).  Over-the-ankle boots only, such as work boots or hiking boots.